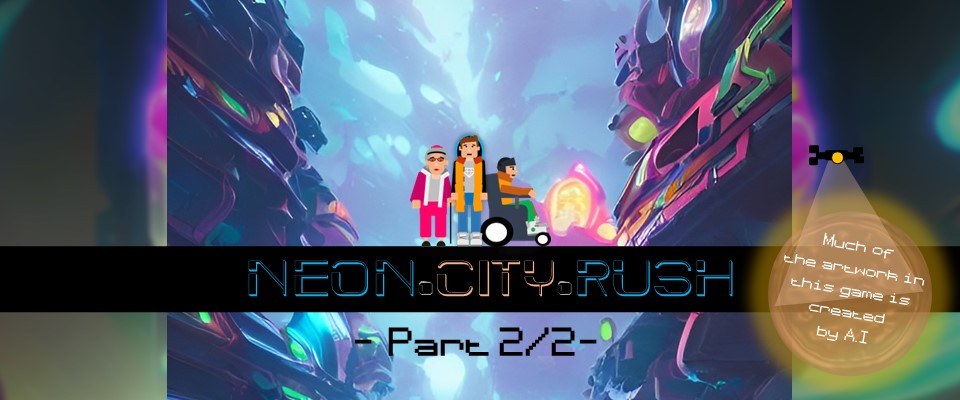 Neon City Rush - PART 2
NOTE TO USERS: This part of the game takes about 1.5 hours to complete. Please use the 'chapter select' button if you are returning to the game. This way you can pick up where you left off and play through the story at your own pace. Remember to play part 1 of this game first.

Welcome to the future and to Neon City.
A habitat where technology, crime and corruption are a daily way of life. Freedom and democracy are all things of the past. Powerful corporations now control the masses through technology, propaganda and fear.
You are city resident 1067893.You live in House Block 4 with your brother and ill Nanna. Last year an accident left your brother paralyzed. Since then, he has become an accomplished hacker.
Nanna has always been there for you both but her illness is not getting any better. You have no creds to get her vital treatment and things are desperate. You only have one choice. Take on Neon City along with it's many gangs, evil corporations and corrupt organisations. You must get the creds to save Nanna.
In part 1 we saw you and your brother raise some of the creds needed for your ill Nanna's treatment. This was possible by taking on jobs from bidders on the dark net.
With your skills as a thief and your brother's skills as a hacker, the jobs were risky but proving a reliable source of funds for your ill Nanna's treatment. The jobs you have completed have caught the attention of "Th£ Corpor@tion". This is an evil organisation which looks to control Neon City and it's people.
In the latest job, you and your brother are tasked with fixing a broken teleporter in the Wastelands. Residents there currently can't get food, medicine or other vital supplies.
However. We left our hero's in a bad situation. Not only is it a school day, but your brother has been unfairly sent to the principal's office. His only crime was defending himself against a common school bully.
If that's not bad enough, you have also been captured by a gang at The Docks. You were trying to secure a boat, so you could travel to The Wastelands to fix their teleporter and help their people.
We pick up the story with you locked in a cell by this mysterious gang. You do not know how to escape or the true scale of the challenges ahead. You have some big questions to ask yourself...
Will you and your brother be able to save The Wastelands?
What other jobs will there be on the dark net in the future?
What are the true ambitions of "Th£ Corpor@tion"?
And most importantly, will you be able to raise enough funds to save your ill Nanna?
Controls
< > Arrow keys to move
SPACE to jump
Click/touch buttons to interactive as prompted
Game features
Can be played on desktop, tablet and mobile
Family friendly and fun
In-depth story set in the rich, vibrant and futuristic Neon City.
Beautiful AI. art created using the Wonder App.
Loads of characters, some friendly and some not!
Mini games to keep the things interesting.
Use hacking skills to progress the story.
Hours of gameplay, depending on your ability (across part 1 and 2).
futuristic soundtrack made in BeepBox
This game was created for the GITHUB GAME OFF 2022 GAME JAM!
The Jam theme was cliché
This game has:
Long text based chat screens between characters to convey the story (hopefully it's not too boring but feel cliche)
A futuristic nightclub scene (the music of the future is so.... well I'll let you decide)
Complete 'Mini games' to progress the story (to keep the game play exciting of course)
Hard boss fights (you can still beat them... just might take a little practice)
Hacking, (all games based in the future need hackers right?)
A creepy to 'be continued/ coming next year' message to finish things off (no spoilers ;))
The required GIT HUB source files can be seen here.

Check out my other free games at www.gamesbyjack.co.uk and donate to the charity Mind if you enjoy what you play via the site.
Thanks,
Jack